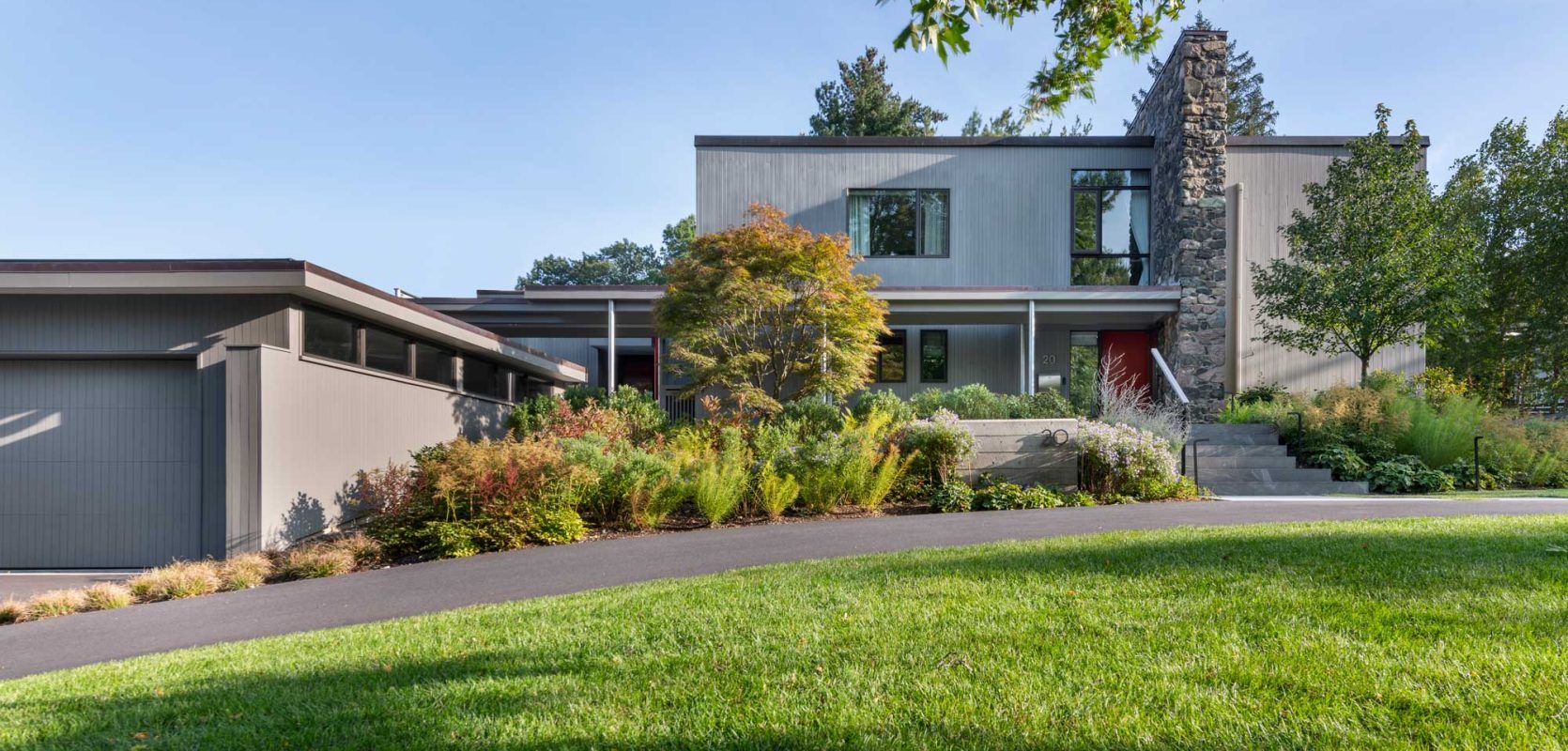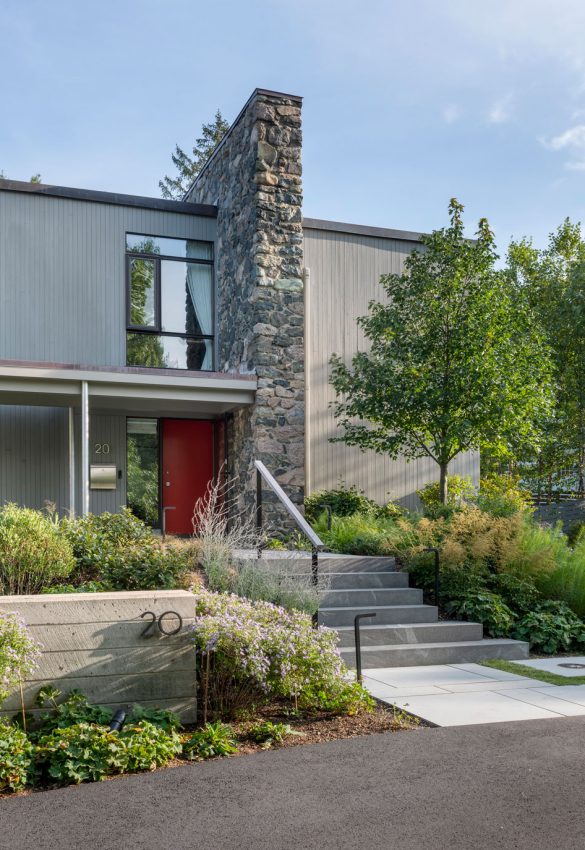 Modern Updates in Oak Hill
Newton architect Samuel Glaser designed the jewel-box Leventhal House in 1949, for a member of a prominent local family. Over time, the home has been sensitively maintained and updated by a small number of devoted owners. Flavin's recent updates included replacing the original garage with a new flexible outbuilding and reimagining the adjacent exterior spaces, clarifying the relationship between house and accessory structure. We worked in tandem with, and in support of, Matthew Cunningham Landscape Design and their beautiful vision for the grounds and gardens.

The house stands on a steep rise at the foot of Oak Hill. When it was built, it was one among only a handful of nearby homes (including the 1946 Kaplan House, by The Architects Collaborative, next door). Over the decades, development uphill altered the site's drainage patterns. Increased runoff left the original, narrow garage prone to ice and flooding. Flavin's new structure resolves those issues. Stepping forward from the residence, its enlarged footprint includes room for two cars, a workshop, and exercise space. Gray vertical board siding and copper trim visually connect it to the Glaser house.

Providing passage from the garage, the new canopy and arcaded walkway take cues from both structures, particularly in the shared material palette of exposed steel, copper, and concrete. Strong geometries above and below lead to doors painted red—a pop of color echoed in the garage, with its red structural I-beam.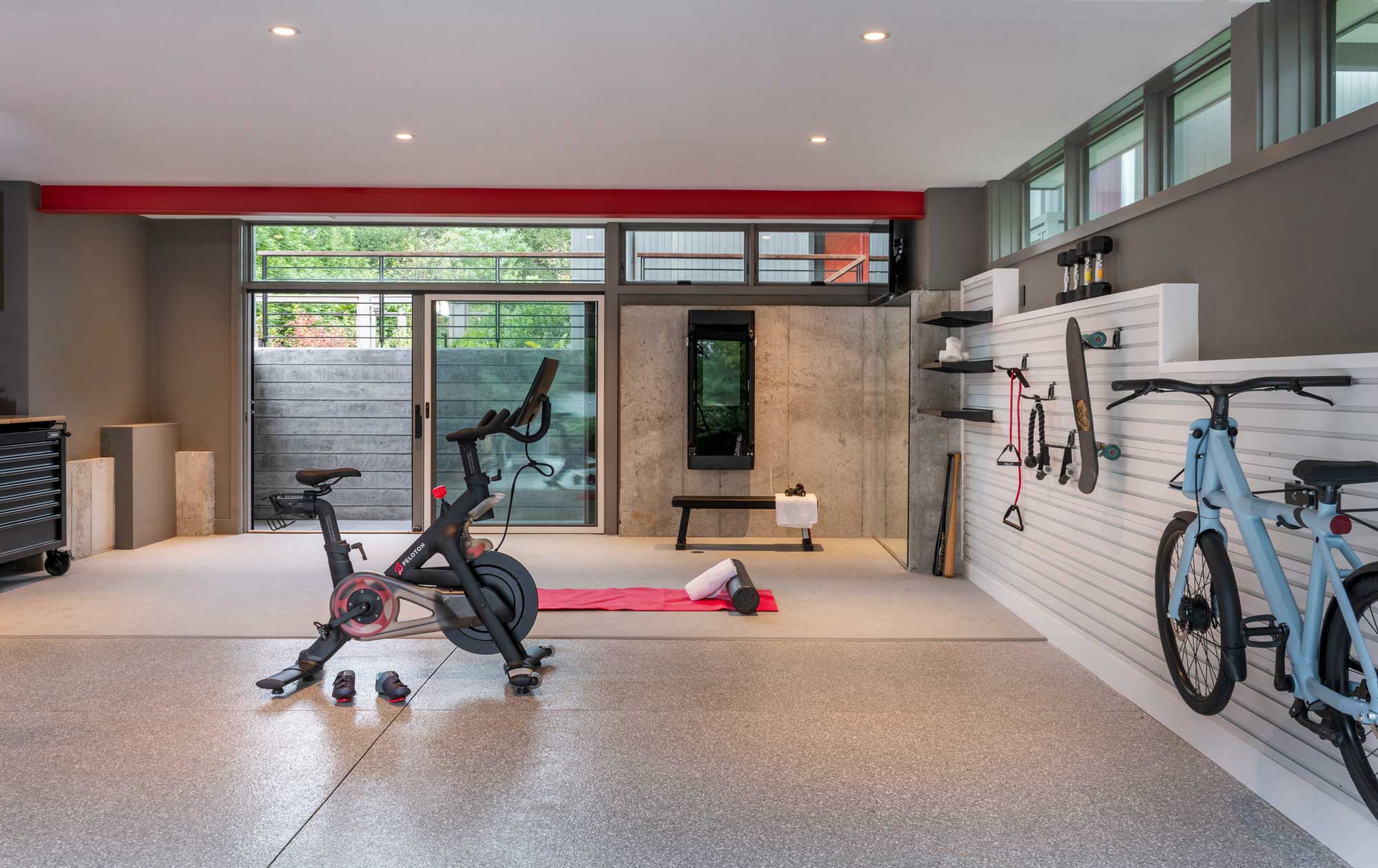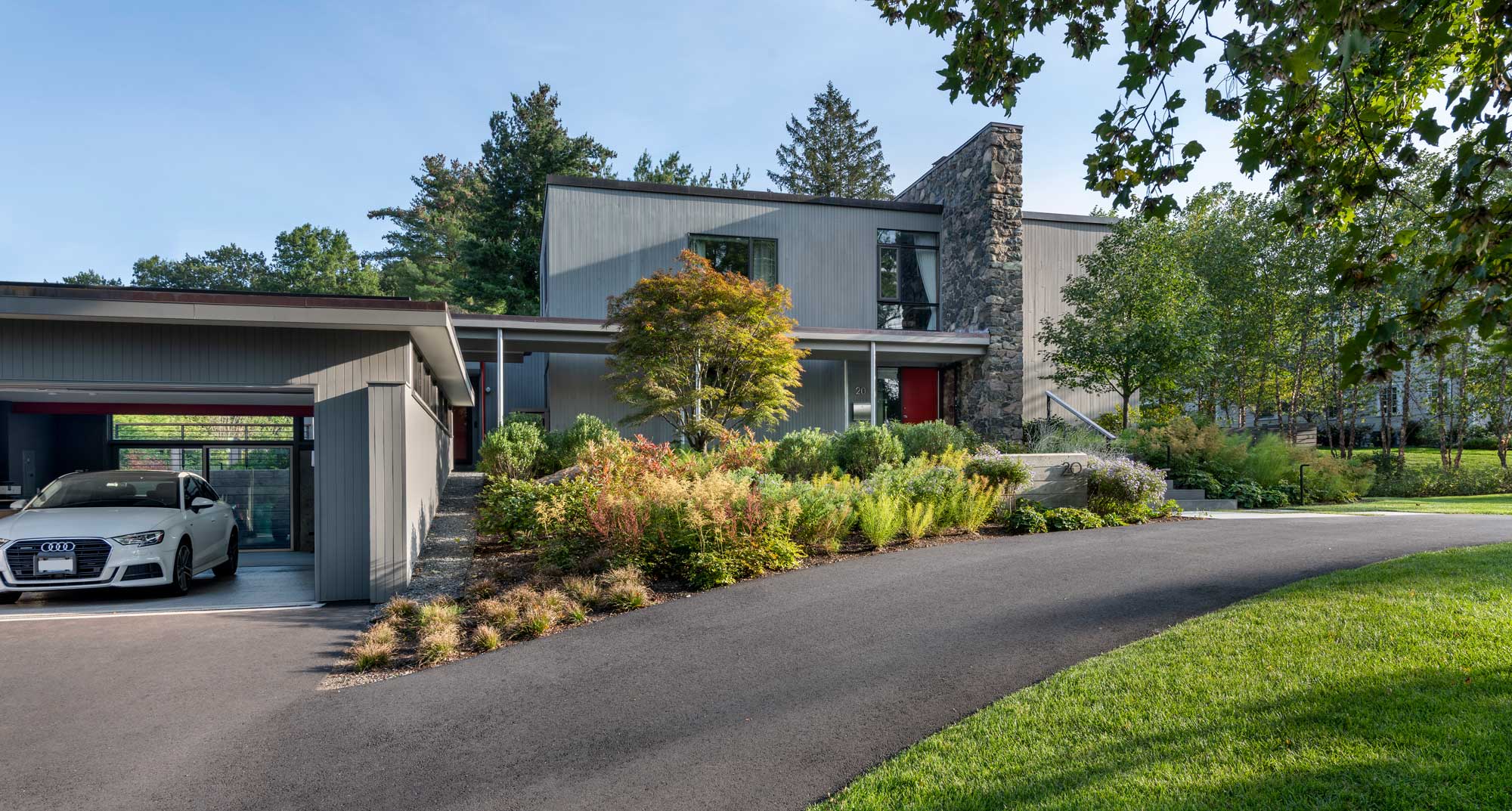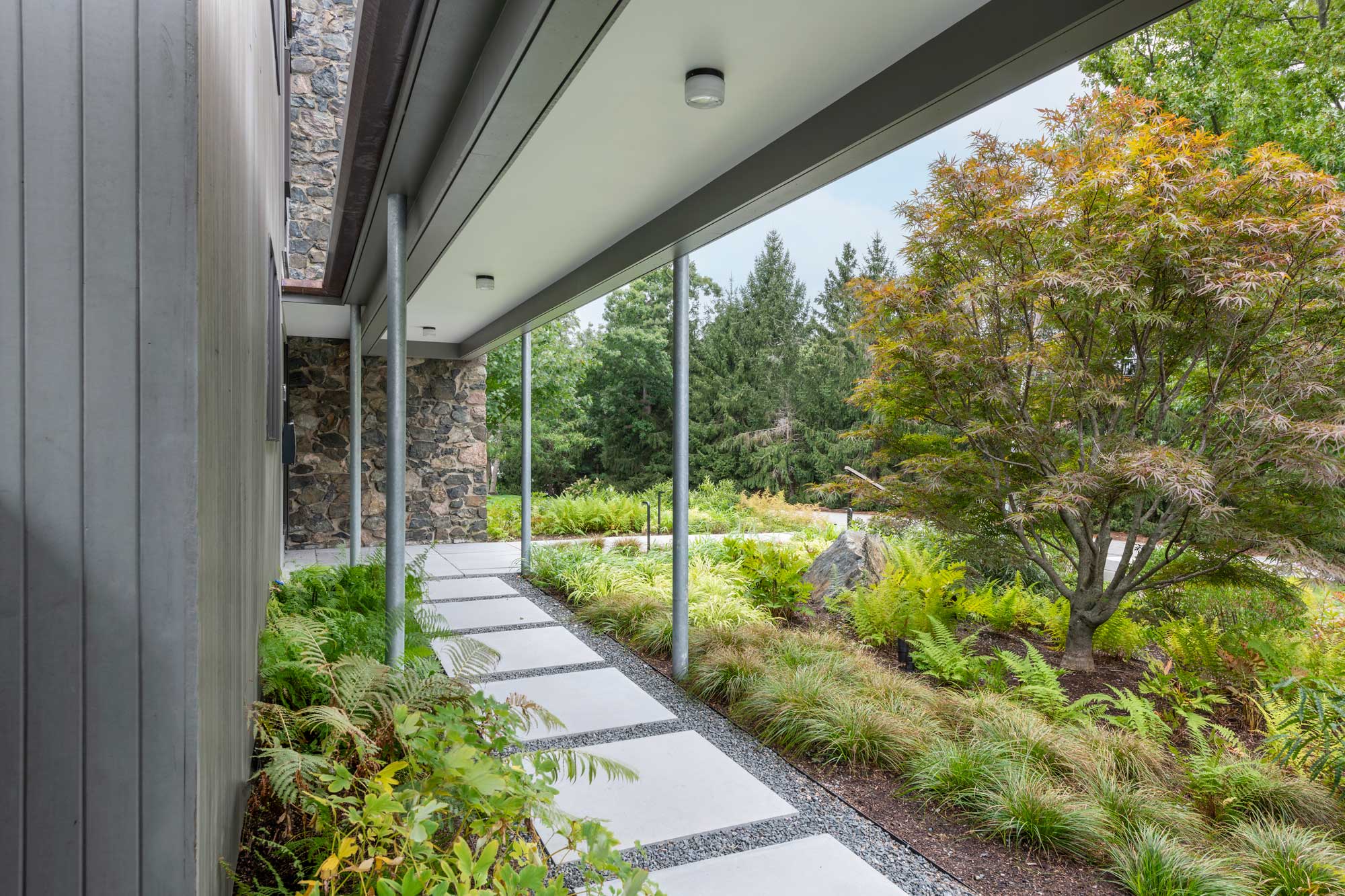 A pioneer of New England residential modernism, Samuel Glaser (1902–1983) began fusing local vernacular elements with ideals of European modern design as early as the late 1920s—alongside peers like Henry B. Hoover, Sarah P. Harkness and her mentor, Eleanor Raymond, among others. Born in Riga, Latvia and raised in Brookline, Glaser studied architecture at MIT. Many of his modern homes play ingeniously with transparency and opacity—using wood and glass, masonry, and even textiles to create spaces that are both open and defined. Today, he may be best remembered for his work on two local architectural landmarks: the Kennedy Federal Building in Boston, a collaboration with Walter Gropius and The Architects Collaborative; and, in Newton, the Star Market that straddles the Massachusetts Turnpike.

Right: Glass doors in the dining room open to a rear terrace. An original Glaser detail, a white curtain gives shape and volume to the space while catching beautiful shadows, as the sun crosses the property.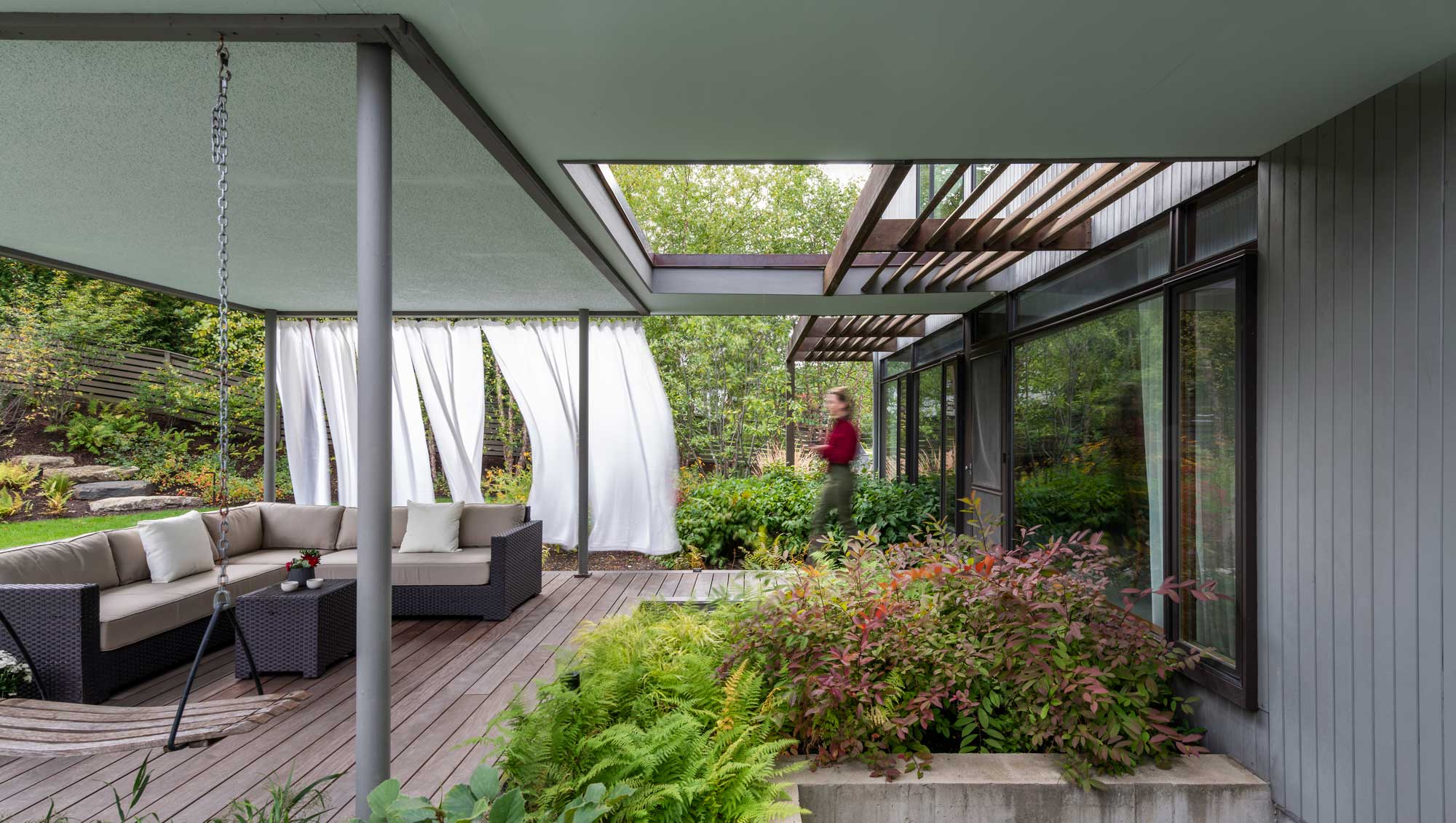 Credits
General Contractor
Denali Construction
Surveyor
J. Webby Consulting
Landscape Architect
Matthew Cunningham Landscape Design
Structural Engineer
Webb Structural Services
Photography
Nat Rea Photography
Photo Stylist
Simplemente Blanco